Alternative to WeTransfer, made for the audio industry
Bridge.audio provides non expirable links, with the music only one click away. As for file reception, the unlimited Bridge inbox is the best solution to manage audio inflows.
Get Started, it's free
Why is the industry switching from WeTransfer to Bridge.audio?
It's as easy as 1, 2, 3!
The fastest way to be listened to
Make your music and audio more accessible. With WeTransfer, it takes your recipients an average of 6 clicks to open your files. With Bridge.audio, we make sure your audio and other media are reachable within a maximum of 2 clicks.
Branding empowerment
With Bridge.audio, including with the free version, you can brand all your links in many ways. Add a cover picture, write a custom description including external links, attach videos, images or docs... Make sure your content is always attractive for your recipients, as opposed to "just another link.
One upload, and no link expiration
Fed up making new uploads every time you need to share your work? Concerned about your digital footprint? On Bridge.audio, the content you share is uploaded once and for all. Your links never expire, unless you deactivate them. You can even update the content and the permissions on your links, whenever you want, as many times as you want, even after you've shared them.
A better solution on both sides,
for sender and recipient
As a sender, stay in control of what you share, and how
A maximum personalization in a few clicks
Chose your audio files, add all other needed media (biography, photos, videos, other docs...), insert external links (social media, website...) and complete the link with an inspiring cover picture.
Control your links, fearless of any expiration
You decide whether you want your tracks to be downloadable, or streaming only. All the links you generate are expiration-free, and dynamic. That means you can add, remove, or modify tracks and other assets (media, cover Pic, description) whenever you want. Links are automatically updated for your recipients.
Follow your links
You get notified everytime someone accesses your links. That means you can know it all: who streamed track A? Who downloaded track B? Who didn't do anything with your link?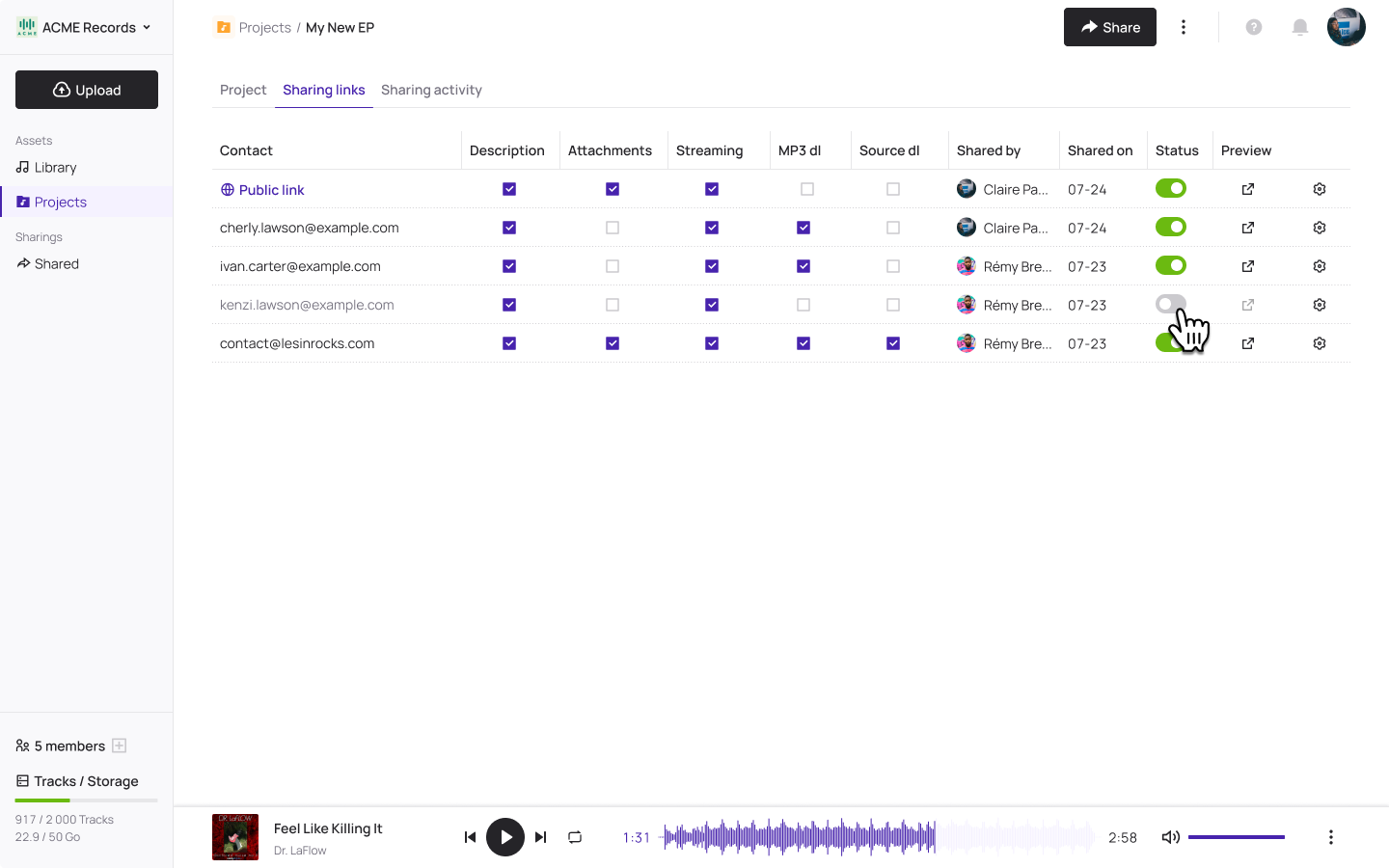 As a recipient, no more wasting time or disk space
Stream tracks in one click, not six !
With WeTransfer, you are 6 clicks away from listening to the audio you received. Click on the mail, then click on the download link, click to open your finder, click to access your downloaded files, then click to unzip, then click to start playing one track and/or open your iTunes... Could it be more complicated to get to the music or audio?
Make the most of an unlimited inbox, and of shortcuts on the links
You can listen to the audio files before downloading them, or deciding to add them directly to your own workspace. Choose if you want to get all the tracks shared with you, or only a selection. With the inbox, enjoy an unified and organized flow of audio reception. The files received via the inbox do not count in your storage!
Get thorough and consistent metadata
Put an end to receiving random tracks named "Audiotrack7.mp3" by Unknown Artist. Metadata are not an option anymore. Bridge.audio links carry all relevant information on the files, so you are not lost with incomplete data anymore. On your inbox, you even get to read directly files' metadata, music tags, or credits.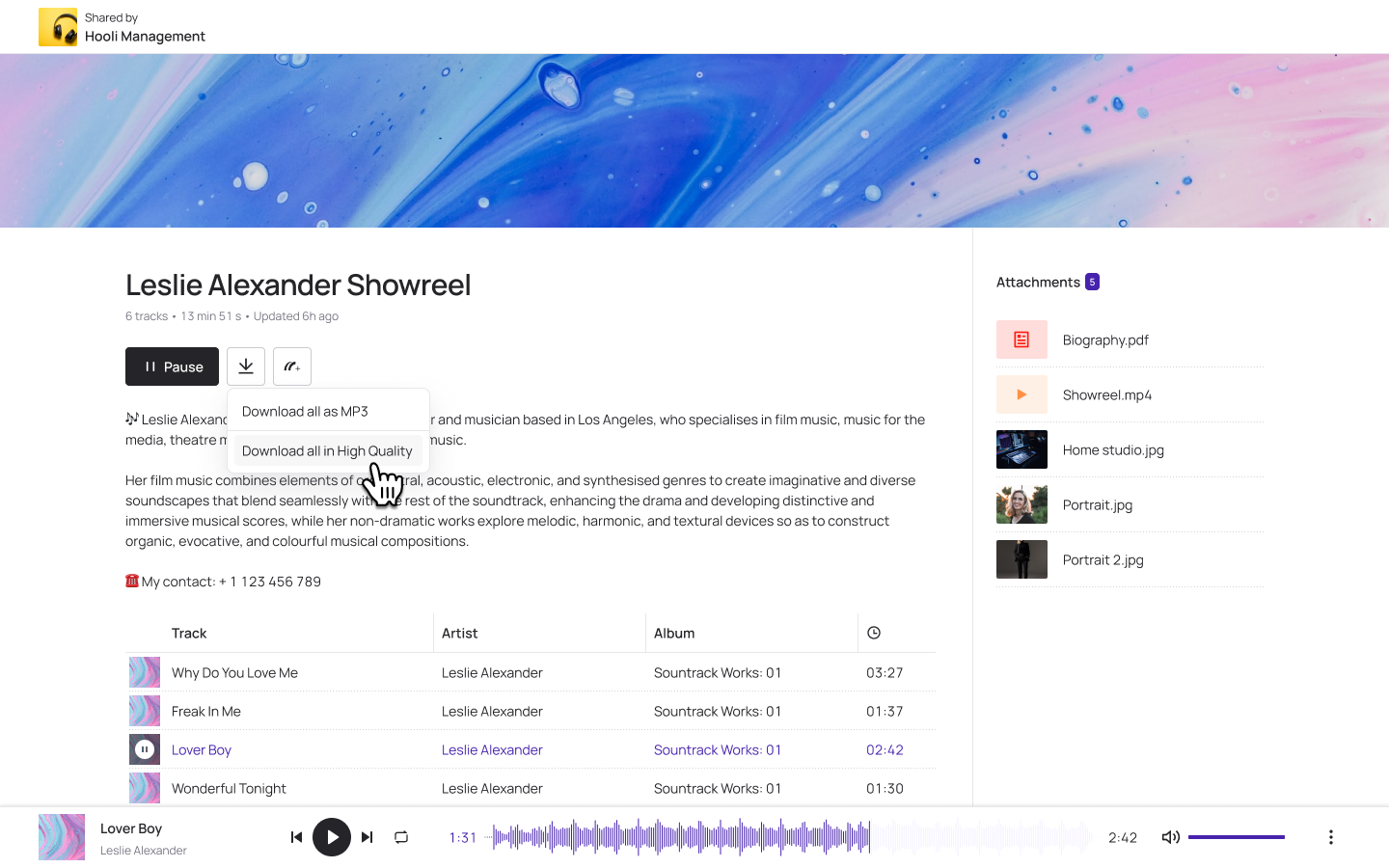 "Today I simply no longer accept download links without a streaming option, they are way too time consuming to deal with."
Work as a team
Invite your crew
You are never really alone. Gather your company team, your band members, or any work partners, in one single app. While WeTransfer makes you work solo, Bridge.audio provides a collaborative solution. First five members on a workspace are 100% free.
Collaborate on projects
Each member of your team can participate in the workflow. For instance adding the latest version of a track to a project, or providing additional metadata.
Move forward with the team
Everyone in the workspace is aware of progress made by the team with the catalog or ongoing projects. All members can follow activity recorded on the links generated.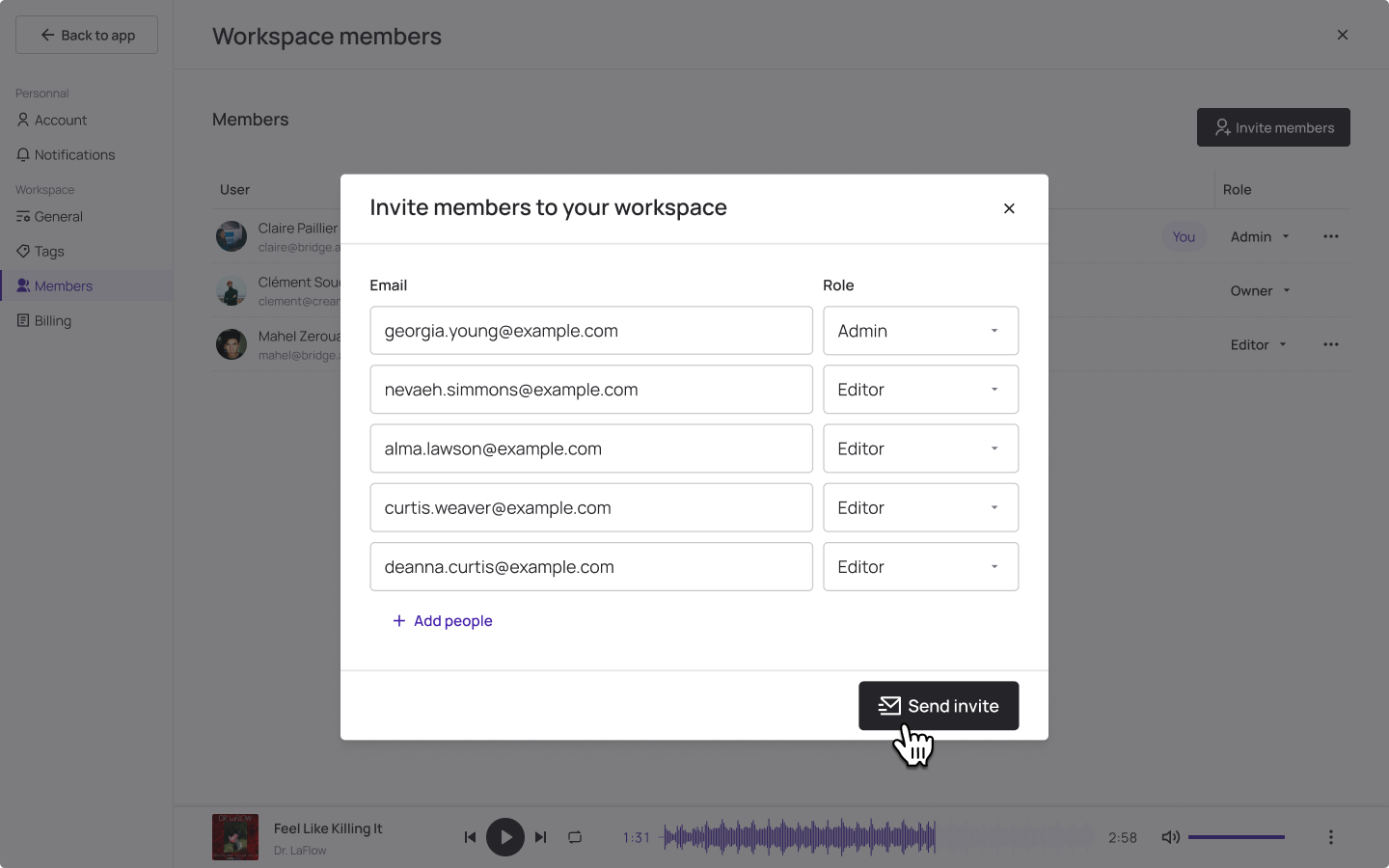 "When working on a new album, it is super convenient for my team to be gathered on one tool. We can advance step by step keeping everyone on the same page, without juggling between Soundcloud, WeTransfer and Dropbox."
So, can Bridge.audio really replace WeTransfer, Soundcloud, and iTunes altogether?
Absolutely. Because using WeTransfer means you have to use Soundcloud for streaming links, and iTunes as a local player. Bridge.audio gives you the power to do it all in one place. It is built for your entire audio workflow.
Upload and collaborate on a single platform
Picture a shared drive on the cloud, with the look and feel of an audio player. All your files gathered in the same place, all your shares coming from the same workspace, all received files in the same inbox.
Describe your catalog with metadata & tags
Enrich your tracks with all the metadata you need, including copyright holders and extended music tags.
Create new songs, albums, projects, playlists...
Organize your catalog the way you like things to be. Bring your focus back to creativity.
Immortal and dynamic links
All the links you share have no expiration date, and can be updated. That means you can change the content and options, for any recipient, whenever you want, as many times as you want. No need to send new links!
Get notified
Every time a recipient opens, streams, or downloads your files, you will receive a notification. You know exaclty who does what, and when.
Share your audio the way you want others to receive it
Authorize streaming and/or download, choose the audio quality, add all other media needed (video, pdf, pictures...).