An alternative to Soundcloud for promotion
Soundcloud is an amazing social media for the audio community. However, using it for promotion has many limits. Bridge.audio provides a more complete and convenient solution.
Get Started, it's free
Why are people switching from Soundcloud to Bridge.audio?
It's the most powerful alternative
Share all sort of media, not only audio
When you present your work, audio is key. Yet, you'll very often need to also share PDFs (a biography for instance), videos (clips of the movie/ad you are working on) and photos. Bridge.audio makes possible this mix of different media in a single link.
Brand your links
With Bridge.audio, and even in the free version, you can customize all your links by adding a cover picture. This turns your content from "just another link" into a very attractive presentation. Branding is key for your links performance (30%+ more listening!).
No public stream counts
Sometimes, you may declare to share "the next big thing" via Soundcloud, the counter will actually displays that the track was uploaded 3 months ago with a total of 63 plays... On Bridge.audio, we don't consider ourselves a social media, so there are no public counts nor dates displayed on the links you share. Those stats are of course available, but to you and your team only!
A better solution
on both sides, whether you're sender or a recipient
A stronger solution for the sender
A maximum personalization in a few clicks
Choose your audio files, add all the media and documents you need (biography, photos, videos...), and make the whole thing more appealing with an inspiring cover picture.
Control your shares
You decide whether you want your tracks to be downloadable, or stick to streaming only. You can add/change tracks and other assets (media, text, cover pic) whenever you want, because all your links are dynamic, and expiration free.
Follow activity on your links
You'll be notified every time someone opens your files. Did Paul listened to track A? Did Cathy download track B. Who, what, when - you'll know it all.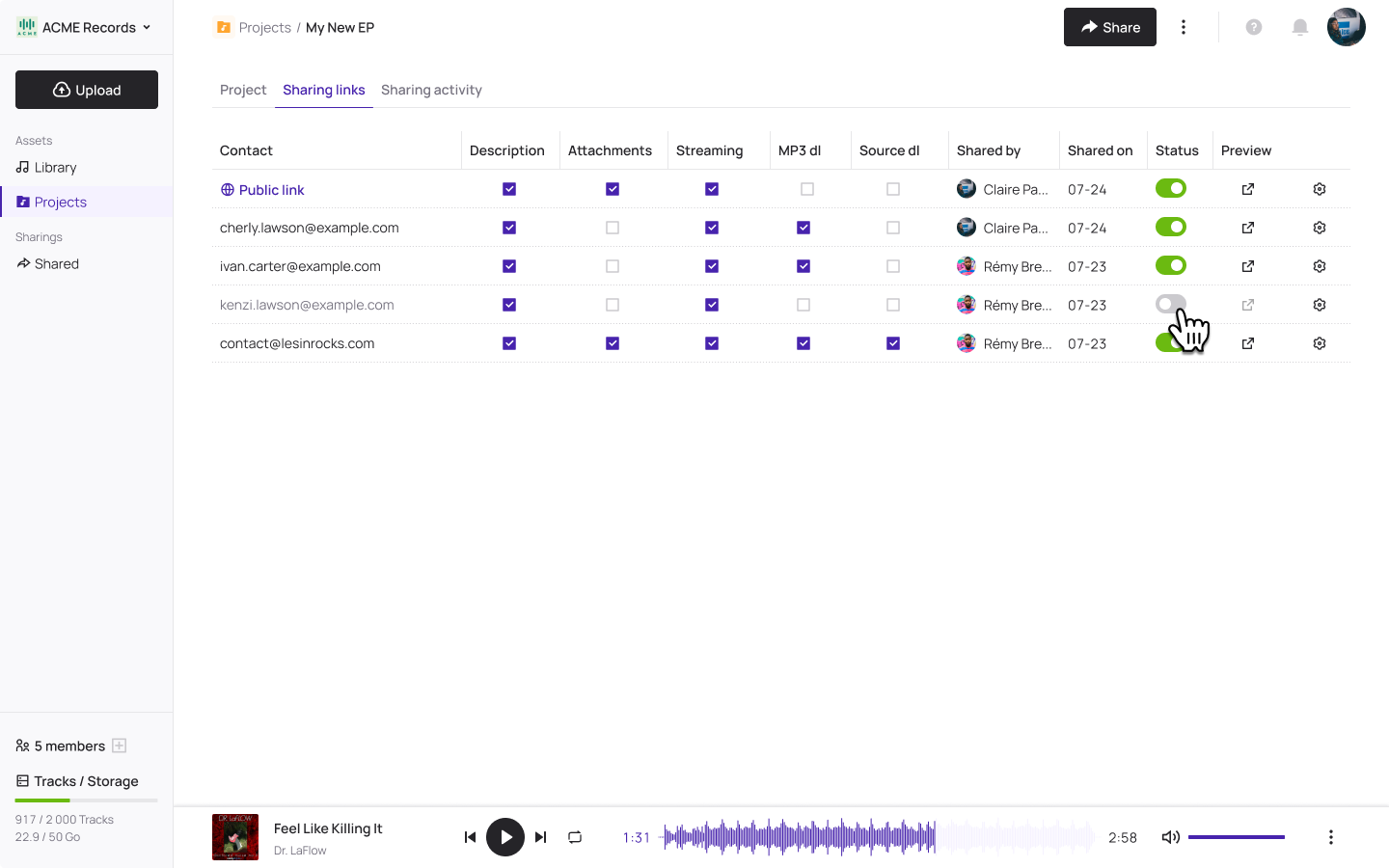 A practical interface for the recipient
A full understanding of what you are being presented
With Bridge.audio, you have a quick and full overview of the content of a link. Audio files, videos, photos, other attachments: everything is available on a single page. And everything can be played or downloaded in one click.
Download is not mandatory, and you can add tracks to your own workspace
You can listen to the audio files before deciding to download them. We also provide a feature that allows you to add all the tracks shared with you directly into your personal Bridge.audio workspace.
Receive tracks with consistent metadata
No more files that are named "Audiotrack_7.mp3" by Unknown_Artist... Access tracks that are fully tagged without missing information. With the Inbox feature, you can gather all music reception in one place, with no impact on your storage.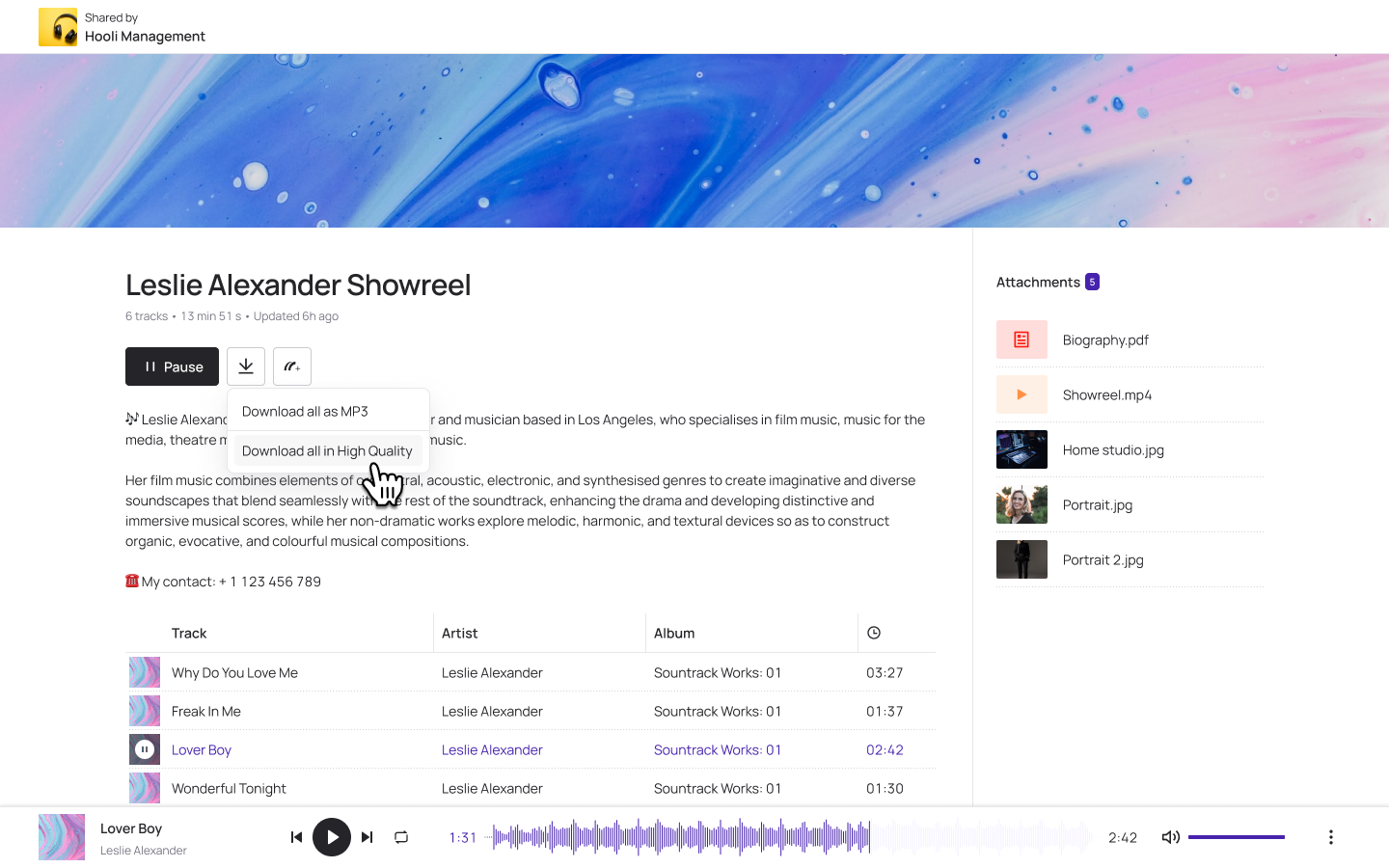 "We are saving a lot of precious time in our exchanges with partners. Bridge allows us to prevent metadata errors, and to be more productive"
Better teamwork
Invite your crew
Gather your teammates or band members in one and only workspace. Finally get everyone on the same page, with shared access to a properly tagged catalog.
Work as a team
Each member of the workspace can upload tracks in the library, create and work on new projects, and generate links to share with the outside world. The Inbox also offers a unified file reception interface.
Get precious feedback on your work
You get to know everything that happens on your links. Openings, stream count, downloads... A full activity report is available for every single link you share, plus a weekly recap sent by email.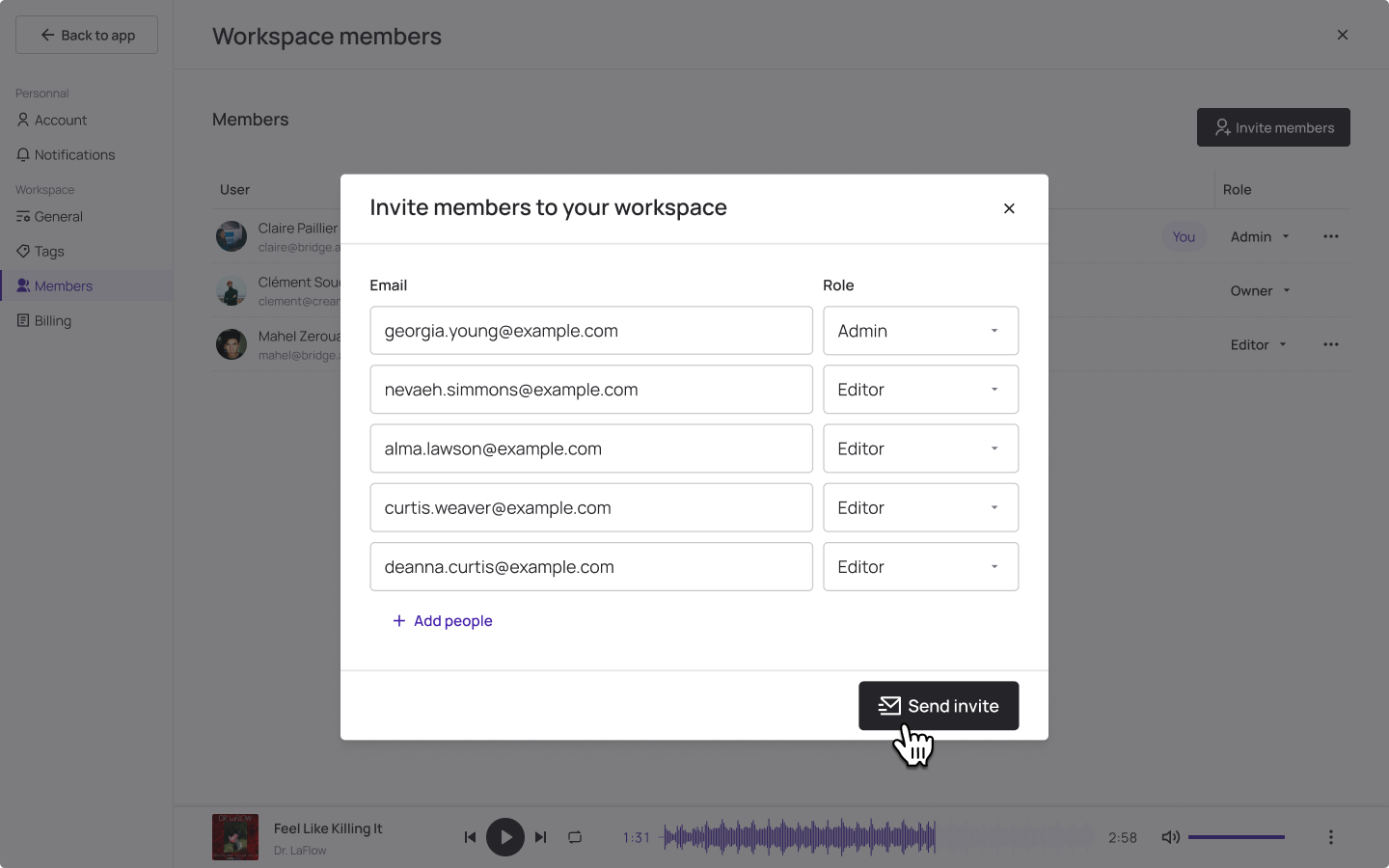 "We are aware of everything happening on our links, and we can act and move forward accordingly"
So, can Bridge.audio really replace not only Soundcloud promo links, but also WeTransfer, Dropbox and iTunes?
Using Soundcloud streaming links for your promotion means you have to use WeTransfer, Dropbox or Box to generate download links, plus iTunes or another player locally. Bridge.audio is the all-in-one solution to take care of your entire audio workflow.
Upload and collaborate on a single tool
A solution that is not just a simple drive, but a real player built for audio people. It makes collaboration easy.
Complete metadata & tags
Enrich your files with all needed information. You have a wide range of options at your disposal: music tags, ID3 tags, credits, comments... And even custom tags for full personalization.
Create as many projects and playlists as you want
Use Bridge.audio as a creative base to gather your ideas, whether it's for your private work, or to share with clients. You can create presskits, live kits, showreels, presentations, brief answers... anything you want!
Share your audio in your preferred method
You have a wide range of options for all your links: streaming only, or download allowed, format selection, access to media, custom password protection...
Keep track of everything
Get notifications every time a recipient streams or downloads your files. Access a full activity report for each and every one of your shared links.
Reduce your footprint
Bridge.audio links are dynamic, so they can be updated whenever you want. You can change the tracks, the description, the attachments... There is no expiration neither. No need to re-generate a new link every time something is wrong or outdated on one of your links!