An alternative to non-specialist tools like Dropbox, Google Drive or Box
4 key features that make a difference: Personalization, Metadata, Playlist, Tracking
Get Started, it's free
Why are audio people choosing Bridge.audio over Dropbox or Google Drive?
A more powerful tool, built specially for the music and audio industry
A true player rather than just a drive
Your idea surely is to make your audio the most accessible and easy to stream as possible. In this case, Dropbox, Google Drive, or Box are far from being optimal. With those tools, your recipients cannot play the tracks with ease. Files are only available one by one, people cannot skip from one track to the next, and there is no waveform displayed. To put it simly: audio pros need a real player, not just a regular drive.
Make your audio beautiful
On Bridge.audio, you can personalize all your links, so they are in harmony with your work. You can add a cover picture, a description, a selection of media, external links... The goal: always offer an attractive content for your recipients, not "just another link".
Catalog overview
With its look and feel of an audio player, Bridge.audio is much more than a casual drive filled with assets. Your catalog is enhanced, and you can access it in different ways: a view by track, one by artists, and another one by albums or releases. What's more, you get a very extended set of options for your metadata and tags. Enjoy a nice and clean catalog to work with!
"Thanks to beautiful links that only require a single click to start streaming, we are multiplying tenfold our chances to be listened to"
A better solution for everyone:
An unworried sender, a satisfied recipient
A better tool as a sender
Personalization of your content
On top of your audio files and other media (videos, pictures, pdf), you can add inspiring cover pictures.
Stay in control
Authorize downloads, or keep it to stream only: you choose your options, and you can change them whenever you want! All your links are dynamic and do not expire unless you decide so. Deactivate / reactivate them at any moment, or add/remove assets over time.
Keep an eye on everything
You will be notified every time someone opens your shared assets. For example this client downloaded File 1, while that partner streamed Track 3. Don't miss on any of the action anymore!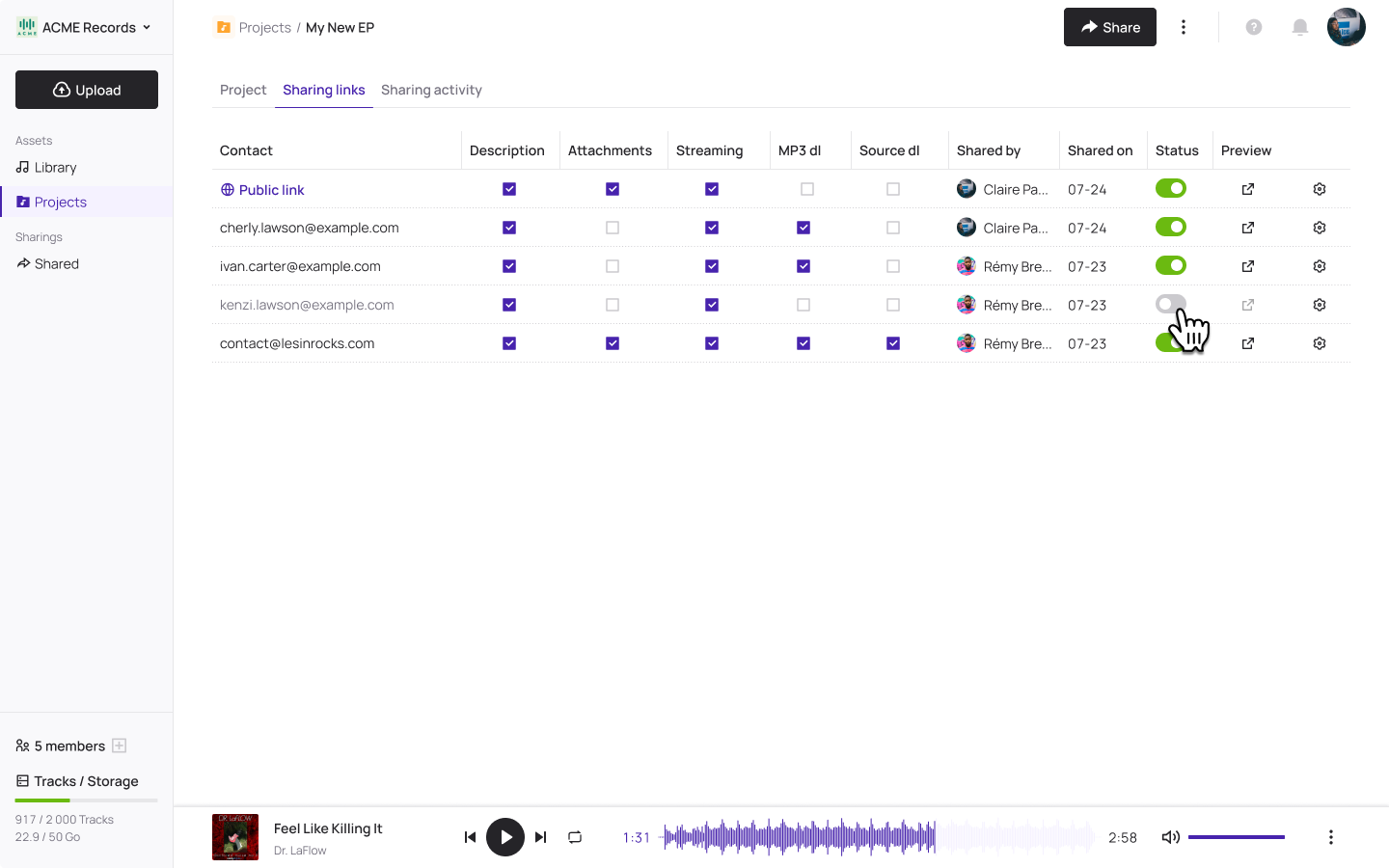 Much simpler as a recipient
A player where you can skip tracks, not a simple drive
On Dropbox or Google Drive, you cannot stream a playlist. You need to play tracks one by one, so it makes the listening experience truly unpleasant. It is an open door for your recipient to procrastinate, and to only listen to one track instead of the whole content.
No more "Audiotrack_03.wav" by "Unknown_artist
You get a full overview on metadata. No more tracks named Audiotrack_3_Master by Unknown_Artist, and that is good news for our industry.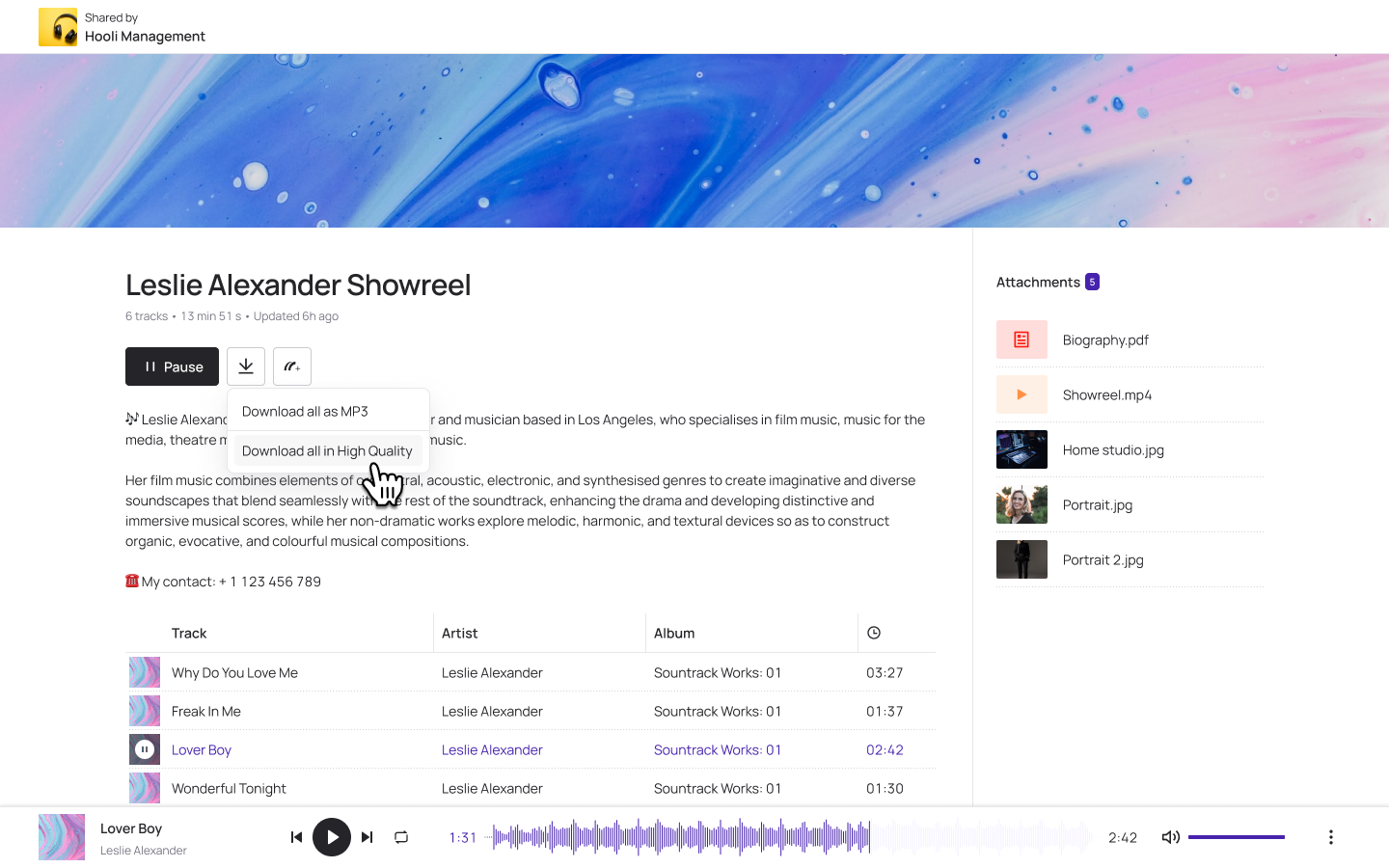 "I love that it's both a complete no-brainer for simple tasks, and a sophisticated tool whenever you need it to be."
One solution to replace them all
Bridge.audio is an all-in-one tool. If you use Dropbox, Google Drive, or Box, that means you also have to use Soundcloud for streaming links, plus another local player on your computer (such as iTunes). To put it simple, Bridge.audio is built to fit your entire workflow. No more juggling different tools to get the job done.
Upload and collaboration on a unique tool
Bridge.audio is both a drive and a player where you can do it all. Invite your crew, or stay solo, it's all up to you.
Full description of your catalog
Complete your tracks with all the relevant metadata, including credits and extended tags options.
Work on new songs, albums, projects...
Gather all your work in progress on a collaborative platform. Advance on new projects alongside your team, your musicians, your manager...
Share your audio in the most satisfying way
Choose whether you authorize streaming and/or download. Decide on the audio quality for your recipients. Include as many media and extra information as you want, including videos and pictures.
Receive notifications
Get alerted the second someone opens, streams or downloads your files. Receive a full report of activity detected on each of your links.
Update your links
Change the content and the sharing options for one or all recipients, whenever you want, as many times as you want. Forget about creating a new link everytime you need to make a change. Bridge links are dynamic and immortal.